10 Years of Migrations Radio Show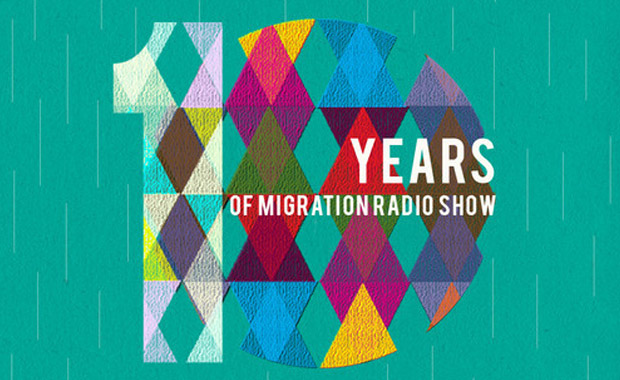 The story began in the fall of 2003. On October 14th, Marko Stojović entered the premises of a local radio station in Podgorica, and began airing some tunes. The set would last two hours. The encapsulated in his booth-Marko, would instantly arrest the imagination of those feeling the need of a radical musical migration from a mediocre uniformity of ever so popular radio stations. The show emulated a unique perspective on modern musical twists and turns and it would incorporate genres such as broken beat, house, hip-hop, modern funk, soul and jazz.
Now, 10 years down the tracks, Migrations Radio Show is releasing its "10 Year Anniversary Compilation", a selection of some of the MrGoju's faves in the industry.
Tracklist:
Diesler – Zebra Boogie (feat Linda Bloemhard) / Social Beats 2010
Romanowski – Bossa / 2013
Transglobal Underground – Khalgi Stomp (Thievery Corporation Version) / ESL 2006
Deadbeats – Funky For You / 20:20 D Vision 1998
Beanfield – Planetary Deadlock (Richard Dorfmeister Belvedere Dub) / StreetBeat 1998
Zero dB – Anything's Possible / Ninja Tune 2006
Santessa – Eyes on You (4 Hero Remix) / Disco Volante 2000
Boozoo Bajou – Down and Out / Stereo Deluxe 2001
Jazzanova – Coffee Break / Compost 1997
Nightmares on Wax – Ease Jim / Warp 1999
Baaba Maal – I Will Follow You (Thievery Corporation Remix) / ESL 1999
Sofa Surfers – Babylon Times (feat. DJ Collage) / ESL 2004
Bonobo – Flutter / Ninja Tune 2003
Fingathing – You Fly Me / Grand Central 2000
Gotan Project – Queremos Paz / ¡Ya Basta! 2000
Amon Tobin – Keepin' It Steel (The Anvil Track) / Ninja Tune 2000
Hugo Maldoro – I Know A Little Cuban / C Side Trax 2003
Patchworks – Summertime / Q-Tape 2002
The Dining Rooms – Next to You (Parov Stelar Remix) / Etage Noir 2006
Bobby Hughes Combination – Harp Junction / Stereo Deluxe 2002
Glam Sam and His Combo – DJ is My Driver Tonight / Lemongrass 2012
Dzihan & Kamien – Dundadeova / Couch Records 2002
Mo'Horizons – Jungle Affair / Agogo 2011
Desmond Williams – Theme From A Dream / ESL 2000
Patchworks And Mr Day – Brothers On The Slide (Evergreen Edit) / Favorite 2007
Marbert Rocel – Small Hours / Compost 2012
Daytoner – Little Wonder / Wack 2009
The Herbaliser – Moon Sequence / Ninja Tune 1999