The Rub Live @ Southpaw February 2012 (Download!)
February 2012 marked the day of the last "The Rub" party at Southpaw. The Brooklyn bar that's been hosting "New York hottest party" since is closing its doors unfortunately… But The Rub will continue of course! Eleven, Cosmo and Ayres will be taking The Rub down the hill to Bell House, a beautiful venue very similar to Southpaw in a lot of ways, but a little bigger, and with a little better sound.
To make the last party at The Rub's birthplace count, DJ Ayres, Cosmo Baker & DJ Eleven recorded their set of hiphop and club classics. We don't have video from the night, but if you listen closely to the mix you'll hear Ayres shout hip-hop legend Stretch Armstrong, Fool's Gold general Nick Catchdubs and mixtape don Neil Armstrong amongst others.
In the words of The Rub:
"Simply stated there would be no Rub without Southpaw. Before Fifth Avenue had any sushi restaurants, yoga studios or boutiques, Mikey and Matt took a bet on the neighborhood. They helped us connect with a community of people who wanted to stay in the Slope and party with their friends to quality music. Southpaw was an oasis for Brooklynites who didn't want to go to Manhattan and spend half a paycheck on bottle service while some asshole played The Strokes off an iPod. And they didn't just invest in the neighborhood, they invested in three DJs who were dying to find a big room were we could play cool shit for a crowd who loved music as we did."
DOWNLOAD: The Rub Live @Southpaw February 2012
(right-click & save as)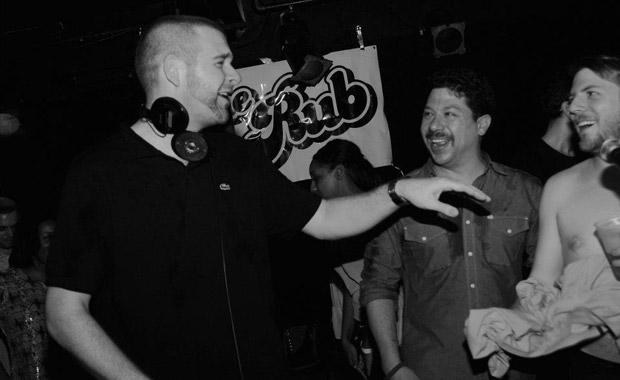 Tracklist:
Hamilton Bohannon – Let's Start II Dance Again
Top Billin – Willing
Jay-Z & Kanye West – Otis (Gantman Remix)
Blaqstarr – Supastar
DJ Technics – Mr Postman
KW Griff – Respect
KW Griff – Footstompin
Diplo – Shhhake
Justice vs. Simian – Never Be Alone (Scottie B, King Tutt & Samir remix)
The Rapture – House of Jealous Lovers
Kid Cudi – Day N Nite (Crookers Remix)
The Count & Sinden – Beeper
Switch – A Bit Patchy
Big Boi – Kryptonite
Fats ft. Maceo – Nextel Chirp
D4L – Laffy Taffy
Jadakiss – The Champ Is Here
Lil Mama – Lip Gloss
Ludacris – Stand Up
Memphis Bleek ft. Jay-Z – Do My
Young Leek – Jiggle It
Wale – Slight Work
DJ Khaled ft. Lil Wayne & Paul Wall
Tyga – Rack City
Ying Yang Twins – Wait
Too Short – Blow the Whistle
LL Cool J – Headsprung
Beyonce ft. Jay-Z – Crazy in Love
DMX – Party Up
Crooklyn Clan ft. Fatman Scoop – Be Faithful
Montell Jordan – This is How We Do It
Eric B & Rakim – I Know You Got Soul
Mase – Feels So Good
Notorious B.I.G. – Mo Money, Mo Problems
Nu Shooz – I Can't Wait
20th Century Steel Band – Heaven & Hell
Onyx – Slam
Freeway ft. Jay-Z – What We Do
Fabolous – You Be Killin Em
Notorious B.I.G. – Mister Cee Live Freestyle
Jay-Z & Kanye West – Otis
Crooklyn Clan – Hands Up
Puff Daddy ft. Lil Kim, Notorious B.I.G. – Benjamins
Mike Jones, Slim Thug & Paul Wall – Still Tippin
T.I. – What You Know
Bonecrusher – Never Scared
DJ Khaled, T-Pain, Ludacris, RIck Ross, Snoop – All I Do Is Win
Lil Wayne – Make It Rain
Lil Jon – Bia Bia
Trillville – Get On My Level
Petey Pablo – Raise Up
UGK & Outkast – Int'l Players Anthem
Dead Prez – Bigger Than Hip-Hop
Meek Mill & Rick Ross – I'm A Boss
Meek Mill – House Party
50 Cent – What Up Gangsta
Fabolous – Breathe
M.O.P. – Cold as Ice
Camp Lo – Luchini
Lil Wayne – 6 Foot 7 Foot
Young Joc – It's Goin Down
Luniz – I Got 5 On It
Biz Markie – Just A Friend
Ludacris – Move Bitch
Dr Dre, Snoop Dogg & Nate Dogg – Next Episode
Snoop Dogg – What's My Name / G Thang / Deep Cover
Kanye West – Gold Digger / Get Em High
Scarface ft. Jay-Z – Guess Who's Back
William Bell & Mavis Staples – Strung Out
Cam'ron, Syleena Johnson & Kanye West – Down & Out
Jay-Z – Lucifer
Kanye – Power
Jay-Z – U Don't Know
Jay-Z & Kanye – Niggas in Paris
Ludacris – How Low
Jay-33 – Face Down
DJ Assault – Ass & Titties (Accapella)
Outkast – Bombs Over Baghdad
Chubby Checker – The Twist
Queen – Crazy Little Thing Called Love
Wilson Pickett – Land of 1000 Dances
The Ramones – Blitzkrieg Bop
The Mohawks – Tequila
Little Richard – Long Tall Sally
The Jeffersons – The Jeffersons Theme Song
The Miracles – Mickey's Monkey
Violent Femmes – Blister in the Sun
Little Richard – Rip It Up
Jackson 5 – Rockin Robin (Accapella)
Hot 8 Brass Band – Sexual Healing
Etta James – Good Feeling
House of Pain – Jump Around
Kriss Kross – Jump
45 King – The 900 Number
Run DMC – Peter Piper
Eric B & Rakim – I Ain't No Joke
Crooklyn Clan – It Takes Tim
Michael Jackson – Remember the Time / Don't Stop Til You Get Enough
Ying Yang Twins ft. Pitbull – Shake
KC & The Sunshine Band – Boogie Shoes
Crystal Waters – Gypsy Woman
Rihanna ft. Calvin Harris – We Found Love
Major Lazer f. Santogold & Mr Lexx – Hold The Line (Skratch Bastid Remix)
Joe Jackson – Steppin Out
Michael Jackson – Baby Be Mine
Chaka Khan – I Know You, I Live You
Stevie Wonder – I Wish
Alycia Meyers – I Want To Thank You