Dinner & A Mixtape – Leaving Dishes NYC Release at Bunker Vietnamese
Date/Time
Date(s) - 01/15/2015
6:00 PM
Location
Bunker Vietnamese
Category(ies)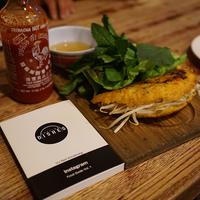 "Dinner & A Mixtape" is the name of a worldwide series of events hosted by DJ Neil Armstrong, sharing his love of music & good food. Started in 2013, they have been held in New York, Hong Kong, Toronto, Los Angeles, San Francisco, and Manila Philippines.
The idea is simple – partnering up with great restaurants around the world, Dinner & A Mixtape provides the opportunity to enjoy music and food together in a very unique setting. Often the restaurant will create a special menu just for the event, and the soundtrack is provided by a new installment in DJ Neil Armstrong's Mixtape Library. Part eating experience, part listening session. The food nourishes the body, and music feeds the soul.
This event on Thursday, January 15 has a slight twist. This is the NYC celebration of the release of "Leaving Dishes Vol 1," the Instagram food guide documenting and sharing all the delicious restaurants around the world that DJ Neil Armstrong has had the opportunity to visit travelling the globe as a DJ. 104 restaurants and 34 cities are shown in a convenient "sized for travel" soft-cover book. Only 250 copies of Volume 1 were made.
For this event we partnered up with Bunker Vietnamese, located in DJ Neil Armstrong's home borough of Queens. Celebrating it's two-year anniversary, Chef Jimmy Tu of Bunker will be creating a very special Vietnamese "Family Style" Tasting Menu for one night only. Throughout the night, DJ Neil Armstrong's mixtape library will be playing, including excerpts of unreleased remixes he has created over the years.
Attendees of Dinner & A Mixtape x Bunker will receive a very special gift bag, which includes a copy of "Leaving Dishes Vol 1," a limited edition Bunker X DJ Neil Armstrong t-shirt, and a sample of "Bunker's Own Hot Sauce" in an event commemorative bottle, which they will be debuting at this event. Finally, all attendees will receive a FREE download link for DJ Neil Armstrong's COMPLETE Mixtape Library. The link alone is worth over $150 dollars, and we want everyone be able to take the music home with them, along with their fully satisfied bellies.
Very, VERY Limited Tickets are available for this event. 2 seatings of 24 persons each at 6 PM and 8 PM. The cost of a ticket for "Dinner & A Mixtape X Bunker" is $75, which includes a 6-course "Family Style" Tasting Menu, a signature cocktail created for the night, and the (priceless, really) gift bag.
Dinner & A Mixtape Vietnamese Feast 
MENU
Oysters, Clams, Scallops & Ceviche
Amaranth Shrimp Soup
Traditional Spring Rolls with Heritage Pork & Crab
Lemongrass Whole Sea Bass
Vietnamese Grass Fed Oxtail Stew with star anise, chili, lemongrass & organic carrots.
Dessert – To Be Announced
*Note: The meal will be Family Style. Unlike a prix fixe meal where everyone at the table receives the same courses on individual plates, family-style meals mean helping yourself from large serving platters of main dishes and sides.
Location: Bunker Vietnamese – 46-63 Metropolitan Ave., Ridgewood, NY 11385 See Map
Tickets for the event can be purchased here via eventbrite.
For questions: please contact : djneilarmstrong@gmail.com