10 Years of Fort Knox Five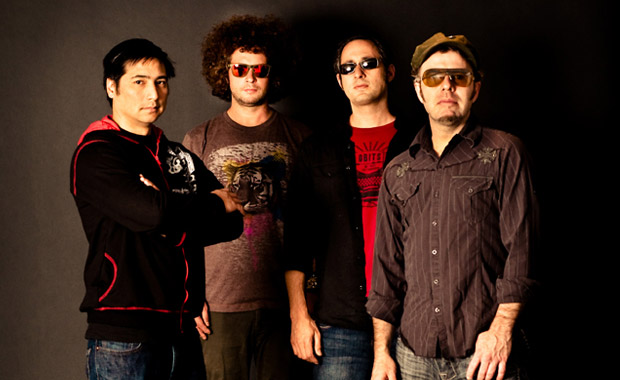 Fort Knox Five have gone into their vaults and hand selected 15 of their favorite original songs to commemorate their tenth year of sewing the seeds of Funk. The selection isn't based on their biggest hits, it's about which songs are close to the four band members heart. The fifth slot in their band was always left open for their collaborators and on this collection there are appearances by Afrika Bambaataa, Thunderball, Thievery Corporation, Asheru and US3 amongst others. Stylewise it's hard to pin down, as Fort Knox Five effortlessly juggle elements of Reggae, Dub, Hip Hop, Techno, Rock, R&B, Swing, Punk, Bhangra and Disco.
10 Years of Fort Knox Five offers a glimpse into the prism of genre- jumping funk that Jon Horvath, Steve Raskin, Sid Barcelona and Rob Myers have been creating since 2003, a decade of musical growth and exploration that tantalizingly hints at what lays ahead for these musical pioneers. out digitally on April 30th.
TRACKLISTING:
The Power Of Five
Insight feat Asheru
The Brazilian Hipster (Digitally Remastered)
How To Start A Band feat Ian Svenonius & Mustafa Akbar
What Make Ya Dance feat Rootz
Stand Up (2013 Mix)
Radio Free DC feat Afrika Bambaataa & King Kamonzi (Digitally Remastered)
Funk 4 Peace feat Mustafa Akbar
Bhangra Paanch feat Beta-G
Papa Was Stoned
Shift feat Afrika Bambaataa & Mustafa Akbar
Killa Soundboy feat Sleepy Wonder & Zeebo
Once Again feat King Kamonzi
Blowing Up The Spot feat Akil Dasan (Digitally Remastered)
Not Gonna Take It feat Rootz